Bump Town Mission
Bump Town exists to support the Bay Area's music, performing arts, and fine arts community with:
Access to affordable performance & event space

Professional development opportunities and mentorship

Artistic community
Bump Town Vision
Bump Town is a creative hub for the bay area music and artistic community, where musicians, music enablers, and audiences can meet, gain access to critical resources, and have a platform to share their work.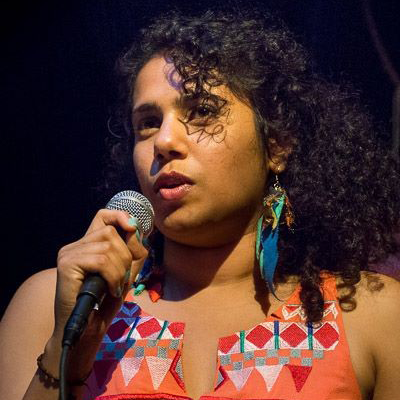 Executive Director
Lyz Luke is an arts & equity activist, producer, event producer, and mentor. Pivoting her 15 years of non-profit and PR experience toward the arts, she has earned a reputation as an "Executive Music Enabler" among the Bay's music community.
She is especially known for consistently asking "Who's not at the table? What do we change to make them feel welcome to the table? What do we do to make them stay at the table?"

Living in the heart of West Oakland, Luke has learned to appreciate the undeniable strength and power of the Bay Area Arts community. Over her career, Lyz Luke has presented over 1,000 musicians by more than 150 Bay Area acts with genres ranging from Latin Hip Hop to full Orchestral. She has produced 14 albums and has received numerous awards for her work: YBCA 100, Oakland Rotary Rising Star, East Bay Express, SF Weekly, and the SF Bay Guardian. She has also worked with Oakland Mayor Libby Schaff in presenting Mayoral Proclamations to both Green Day and Sly & The Family Stone.

Affiliations: Oakland Symphony (Creative Consultant), Rotary Oakland, Recording Academy SF Chapter (Former Governor), GRAMMY U Mentor, Leadership Oakland Class of 2017
Development Associate
Matisse is an arts administration consultant with a passion for helping organizations and artists create sustainable, self-determining futures. She seeks to help create synergistic connections between audiences, artists, and communities. Matisse has curated and produced Oakland Symphony's Mixtape series as part of the Wallace Foundation 'Building Audiences for Sustainability' initiative, managed nationally recognized contemporary classical ensemble wild Up, and is the Associate Director for a California based consulting firm: Fix Creative. Matisse graduated from UC Santa Barbara with a degree in Music and writes, performs with, and manages the band Bowyn. With 5+ years fundraising experience, Matisse brings development know-how and a musicians perspective to understand the unique challenges facing Bay Artists today.
CEO Second Line Vinyl
With over a decade's experience in branding & marketing, data analysis, and manufacturing, Zane wanted to pivot his experience toward his passion for music. A life-long passion, Music has taken him from playing the trombone in a Texas marching band to starting Second Line Vinyl. Come say "Hi!", he's the guy standing 6 LPs and a 45 tall!